Harvesting Our Gifts
Posted: Thu, 9 Nov, 2017 (10 months ago) - by Alison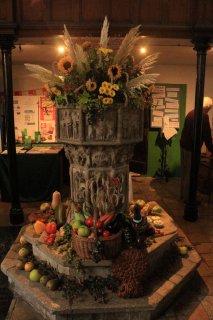 A huge thank you for your wonderful support for St. Peter's Church's celebration weekend 'Harvesting our Gifts' on 30th September and 1st October.
The Church looked stunning with floral and fruit displays and displays about how St. Peter's serves God and serves our community and beyond. The weekend culminated in a lovely Harvest Festival service of praise and thanksgiving.
A total of £1966 was raised, including Gift Aid, for which we are especially grateful. It will all be put towards the continuing work and upkeep of this very special place in our community.

Heartfelt thanks once again. May God richly bless you.
Back to top of page