April in St Peter's Patch
Posted: Thu, 1 Jun, 2017 (10 months ago) - by Diana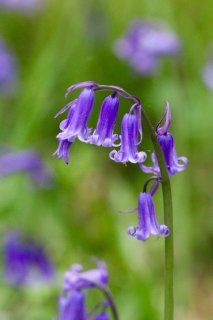 Bells and bells
In the 14th century bluebells were first recorded and described by a Friar Henry Daniel as "lilies of the wood…. like daffodils but blue". Reflecting of Victorian imagery, their depiction in our Lady Chapel window in the 1930's, would have been to symbolise sorrow; their bell heads hung in sadness at Christ's crucifixion.
In contrast, the Woodland Trust this spring ran a campaign to record all British bluebell sightings in the UK to celebrate their glory….. My family and I went on two bluebell "pilgrimages" to Foxley Wood near Fakenham and then Sisland Carr next to nearby Loddon. But, in our own St Peter's Patch we have only one patch behind the front railings, but I am pleased to say that these are English bluebells, not the Spanish import.
For St Peter's April was bells month. The bells project in the tower: the installation of the new frame, the redecoration of the ringing chamber and the re-hanging of the bells was speeding to its conclusion throughout April. So in honour of our splendid St Peter's bells I am writing about bluebells. In Brooke there were more in flower around the Meres than in the churchyard. Perhaps this is apt as the church bells ring out for us all to hear throughout the village.
"There is another quality that makes the bluebell magical: it is in a hurry… The flowers have to beat the closing over of the tree canopy and their rush to become themselves is what makes them taut and glossy"… " It doesn't last; as soon as they are perfect, they are over. Within a couple of weeks, the entire population will be drowned as if a flood has run through the wood. Now is the moment: it's when spring turns into summer." So wrote the writer and historian Adam Nicolson in the Guardian in the spring of 2010.
This was such an apt quote for our April in St Peter's: "in a hurry". Everything had to be ready for the visit of Bishop Graham Norvic to rededicate the bells in a special service. You can't slow down the progress of spring to summer and as a church we could not delay for the great moment of the special church service on May 7th.
Back to top of page