May '18 Winged and Floral Delights, St Peter's Patch
Posted: Sun, 13 May, 2018 (8 months ago) - by Diana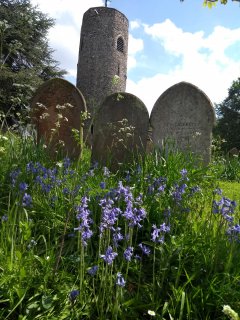 Leaving behind the Flower Festival displays on Sunday 6th May, I walked into the strong late afternoon sunshine which heated the East end of the churchyard by the wood. The stage was set for another glorious display of the weekend. Into the sunlight danced six different types of butterflies although not fluttering together but generally taking their cue one by one over the course of an hour.
The most obliging individual was a "Comma" which offered some patient watching as it warmed its wings sitting on Cow Parsley, some grass cuttings and bare earth. I managed to photograph it when in this resting position. It looks as though its wings have been ripped like a torn paper. It doesn't have the smooth outline of the "Small Veined White" which also obliged me enough to warrant a photo but it's camouflage gives a "Where's Wally" type puzzle! There were also two small whites fluttering about.
A Peacock butterfly made a brief entry. A Holly blue became a brillliant bright surprise visitor although later, on leaving there were two dancing together outside the Old Vicarage hedge. Over the previous afternoon an Orange Tip had been fluttering over the gravestones at great speed. The Male Orange tip lives up to its name and is easily spotted on the wing dallyancing until it's pale winged mate is located. I managed a photo of a female in my garden this week feasting for a moment on the one Lady's Smock that's sprung up this year. Again – you have to look hard at the photo.
There is a legend that the mother of Constantine the Great, St Helena, found a smock in a cave near Bethlehem, left by the Virgin Mary! The flower lhas been said to look like little smocks hung out to dry.
And no spring post would be complete without bluebells, here with the Bell tower behind taken this week.
To view all images, look in the Churchyard album via The Gallery.

Back to top of page