From the Vicarage.....
Posted: Thu, 3 Feb, 2022 (6 months ago) - by Lynn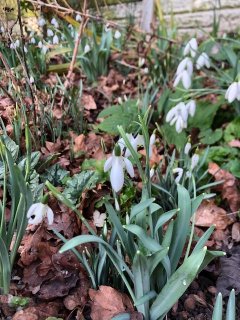 As the excitement of Christmas celebrations fades, the beginning of the new year can seem a bit grey and bleak.  The weather is often cold and wet, and the light levels are low.  Combined with the continuation of the Covid pandemic, it can be difficult to feel joy and hope.
                      BUT…..!
These early months are full of the promise of what is to come.  Each day, although we hardly notice it, there is more daylight and less darkness.  If we keep watch we will begin to notice the early shoots of flowering bulbs, lying dormant since last year, or planted with hope in the autumn.  The stark tree branches will begin to bear buds and a green haze may well start to be visible as this year's leaves are born.  Slowly the brown leafy sludge will begin to dry and the verges and footpaths will re-emerge.  By the time we reach the end of March we'll be putting the clocks forward and starting to get used to lighter evenings.  The daffodils will be nodding in our gardens and the primroses blooming at the roadside, and our expansive Norfolk skies will once again be blue.
The life cycle of creation can do so much to boost our spirits and to give us hope that we too, like the flowers and plants and animals, can be renewed.
Whatever each of us is experiencing at the moment, it is important that we are watchful, noticing the spring signs in our own life; the kind deeds, the loving words, the warm smiles.  It is these things that will renew our hope.  And it is important that we remember that we can bring the gift of spring to others, when we find positive ways to interact and show our care.
May your February and March be filled with the promise of spring and your joy and hope overflow to those around you.
Back to top of page