Two Seasons in One Month! A Beast from the East and soft Easter rain
Posted: Mon, 9 Apr, 2018 (2 years ago) - by Diana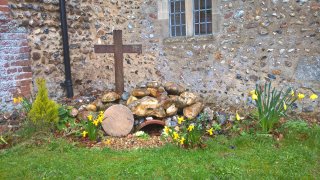 Saturday March 3rd, we dared walk out into the snow-covered roads and paths and down to the Churchyard. It was one of the first days following the several snowfalls of the preceding week that the "beast" had stopped its' howling. In St Peter's Churchyard the wildlife felt comfortable enough to venture out and we found the tell tale tracks. Pheasants and partridges had come out of the wood at the north east end and made the snow look like a busy thoroughfare. On the opposite corner, by the boundary with the Old Vicarage, a hare had lolloped its way from the wood to the safety of the wall - it's tracks longer and larger than a rabbit - more of a longjumper.
Good Friday, March 30th, soft rain began to fall in the afternoon. The tombstone on the Easter Garden was sealed to represent the after noon when Christ's body was placed within. A walk into the churchyard revealed the blessings a few degrees of warmth had brought since the "beast" had left us. To be seen still are wild primroses both yellow and pink - not all primroses are yellow, even in the wild. Some have almost pure white flowers while others have a pink or purplish tinge. Under the hedge boundary with Dovecote are the most stunning royal purple violets, like jewelled amethysts in the grass. The snowdrops, though, are showing their final flowers before hiding underground for another year. Up from underground venture the small burrowing mammals; photographed here a clear hole, probably for a mouse, under the lea of an old gravestone, perhaps Mrs Tittlemouse getting ready for her spring cleaning! What will a few more degrees of warmth reveal in April?
View the Churchyard Spring 2018 photo gallery for more images.
Back to top of page