WELL DONE!
Posted: Tue, 15 Sep, 2020 (5 days ago) - by Lynn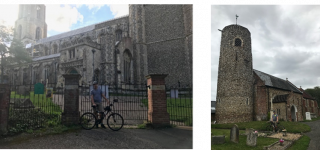 A huge "Well Done" to all those who took part in Saturday's Cycle Ride.
Liz, Gwyneth, Carrie and Martin set off on their bikes and rode 19 miles, visiting 13 churches along the way.
Travelling by car John and Stephanie visited 26 churches all over South Norfolk.
Daniel (and Dad, Robert) started in Wymondham and cycled all the way to Brooke, covering 26 miles and visiting 27 churches.
All reported how much they enjoyed the day - and the fortunately wonderful weather.
At the moment sponsorship has raised about £800 to be shared between the Norfolk Churches Trust and parishes in our Benefice.  It's not too late to donate - you can contact any of the participants if you would like to make a contribution.
Daniel sent the following:
Thank you so much to everyone who sponsored me for the Norfolk Churches Trust sponsored bike ride. I aimed to cycle to 15 churches covering 15 miles and set a goal of raising £100. I was so happy to have raised over £400 more than the original target I had set myself. On the day, I cycled to 27 churches and covered 26 miles. So far, I have raised £575 for the Norfolk Churches Trust and the Brooke Benefice. Thank you so much again to everyone who generously sponsored me!
A big "Thank You" to those who took part and to all those who sponsored them.
Back to top of page