Advent Musings
Posted: Wed, 1 Dec, 2021 (2 days ago) - by Lynn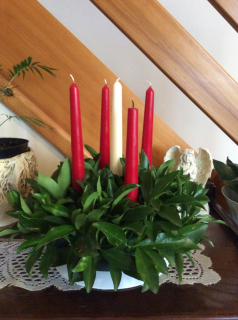 As the season of Advent dawns we find ourselves once more in a period of watching and waiting as the "omicron" varient of Covid 19 reveals itself.  It feels as if the uncertainty of the pandemic has increased again and all our planning and hoping is less confident.  In the benefice, until instructed otherwise, we will continue to hold services and events "in person", taking care with ventilation and welcoming the wearing of face coverings, but not enforcing them.  Our biggest hope is that we don't return to the "no singing" rule - another Christmas with no carols would be hard to bear.
The waiting of the Advent season is very different from the waiting linked to Covid 19.  It is expectant waiting.  Not waiting to find out the results of tests and investigations, but waiting for a promised event in which we can have confidence - we just don't know when it will happen.  As we count the days we wait for our yearly reminder of the birth of Christ, our Saviour; celebrated at Christmas.  We wait too for his promised return in glory, to judge and rule the earth.  We do not know when this will be, but the assurance that it will happen may provide us with the hope we need to keep working for good, to keep faith with God and to keep living life to the full.
As we continue to take great care, let us also enjoy the freedoms of the moment and prepare to celebrate together this year.
Back to top of page