Pentecost Praise
Posted: Tue, 25 May, 2021 (4 weeks ago) by Lynn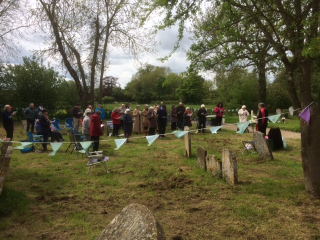 Pentecost Praise!
Once more, having held our nerve against the grey clouds, we met for an outdoor service on Sunday - to celebrate the Feast of Pentecost.  Our worship had a party theme, with games, bunting and cake, as we celebrated the birthday of the Church.  Being outside meant that we could leave off our face coverings and it was wonderful to stand at the front of a group of people and see their beaming smiles at last.  We were also able to sing together and thanks must go to our three organists who shared the music making for us.
We heard about the arrival of the Holy Spirit in our Bible reading and remembered this amazing event throughout our worship.  We had the opportunity to reflect on the place of the Holy Spirit in our own lives and to re-commit ourselves to the Spirit-led work of sharing God's love in our communities.
After our worship we were able, for the first time in a year, to socialise with one another, catching up on news, drinking coffee and delighting in being together again.
More outdoor services are planned during June.
Back to top of page