Songs of Praise
Posted: Tue, 4 May, 2021 (4 days ago) by Lynn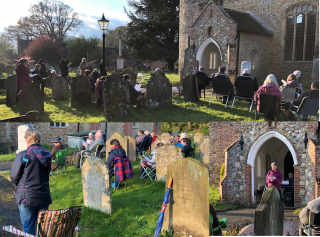 Having defied the weather we were able to hold our Outdoor Songs of Praise service on Sunday evening.  Nearly thirty people gathered - safely socially distanced - in the churchyard at Brooke and we sang our hearts out.  Our theme was "praising God" and each of the chosen hymns, in its own way, did just that.  The birds joined in and our local churchyard pheasant even helped out with the prayers.
Look out for more outdoor services in the coming weeks....
.....and for our next Songs of Praise.
Back to top of page